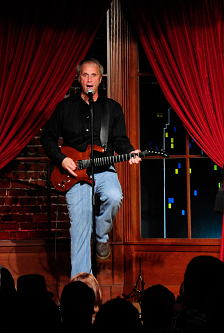 You'll come for the Rock Impressions, you'll leave laughing your head off. Great standup and spot-on musical impressions make this show rock. Comedy clubs, corporate events, cruise ships, colleges, Kier has literally been all over the world, including entertaining the Troops in Europe, Asia, and the Persian Gulf. He has worked with such greats as Reba McEntire, Oprah Winfrey, Ronnie Milsap, Kevin Bacon, and many others and had multiple appearances on the Bob & Tom Show and John Boy and Billy.
A highlight of Kier's show is his History of Rock Guitar Riffs. Kier's impressions include Sting, U2, Dave Matthews, Springsteen, Roy Orbison, Bob Dylan, Sinatra, Elvis, Waylon & Willie, Tom Petty, Prince, Barry White, Nirvana, Pearl Jam, Neil Young, and many others.
| | | |
| --- | --- | --- |
| 3,237 | - | Headlining Nights at Comedy Clubs |
| 2,027 | - | Nights at Music Clubs |
| 931 | - | Cruise Ship Shows |
| 626 | - | Corporate Events |
| 522 | - | College Shows |
| 71 | - | Major Concert Openers |
| 53 | - | City Festivals |
| 66 | - | Shows on US Military Bases (Worldwide) |
| 31 | - | Nights in Las Vegas |
| 1 | - | Rodeo (seriously) |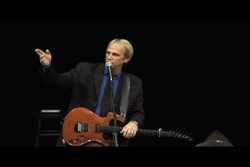 Kier didn't choose comedy, it chose him. His boyhood dream was to be a singer-songwriter; Jackson Browne, James Taylor, that kind of guy. He went to college on a music scholarship and spent most of those days trying to write great songs not great comedy. "I was totally focused on music early on" he says, "but I must admit, seeing Steve Martin live and how he mixed comedy and music kind of got me thinking."
Solo music club work around the Southeast led to higher profile gigs in Aspen, Vail, Key West, the Virgin Islands and then concert openers for Don McLean, Roy Orbison, Randy Meisner of the Eagles, Reba McEntire, Leon Russell, and many others.
Around this same time he started playing a few colleges and within a couple years he was playing 80 to 100 college shows a year. "That's when the whole thing really blew up into a comedy show." as he tells it, "One day I was songwriter-guy-who's-kinda-funny, and the next thing I knew, I was comedian-guy-doing-rockimpressions! I don't know how it happened but pretty soon comedy guy had completely highjacked the show from songwriter guy... and I don't mind saying that songwriter guy was pissed!"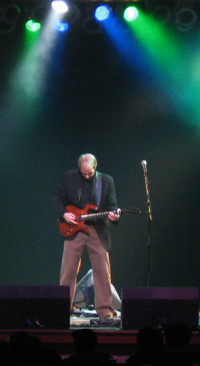 That didn't stop him from accepting the 1993 NACA Coffeehouse Entertainer of the Year Award (Nat. Assoc. of Campus Activities) after multiple nominations in half a dozen categories, voted on by his peers, and all those college students he'd been making laugh for the past ten years.
Gradually the non-stop ComedyRockimpressions College Tour morphed into the non-stop ComedyRockimpressions Corporate Tour. So along with cruise ships, international military tours, and the ever-present comedy clubs always thrown in for good measure, Corporate America had embraced Kier in a big way.
As any good journeyman, he's got a story to tell and in the last few years, in addition to his regular show, Kier has been featured as an inspirational speaker, presenting a mix of touching original music and life stories, along with comedy and impressions. So Songwriter Guy clawed his way back up into the front seat with Comedian Guy and apparently they're both happy. Kier says, "I didn't exactly plan it this way when I started, but I'm having a blast. I still feel like the luckiest guy in the world."